What is WaniKani?
The Creative Language Learning Platform For Kanji
WaniKani is an online platform designed to assist Japanese learners to overcome the massive obstacle they face, kanji. Many learners shake and quiver in fear at the mere thought of seeing ten strokes flash across their eyes, not knowing what each of those strokes means. Classrooms tackle kanji through standard repetition methods, mainly through textbooks, this method can be a described as a bit dry, difficult, and "mendokusai". Imagine this, cramming ten kanji in the lobby ten minutes before class before just to pass a test, wipe the sweat off your forehead and begone with them forever. Heartbreaking right?
WaniKani however, makes this a bit more interesting through its space repetition and mnemonics system.  The websites colourful layout also runs circles around the traditional black and white book.
So what exactly makes this language learning platform so well known in the Japanese language learning community?
Let's start off with a list of positives this colourful, multifaceted crabgator offers.
---
Pros of Wanikani
Creative Power Unleashed
WaniKani's mnemonics system introduces a plethora of wild and crazy stories to help you remember a kanji in its entirety,  forget strokes (well okay, don't forget them, but stash them away somewhere safe while using Wanikani. It also introduces you to the breakdown of radicals, which are the building blocks to kanji. If you know all your radicals and creative enough you can effectively memorize all 2,000 + kanji.
Learn Kanji In Context
Wanikani doesn't just throw kanji at you and say "Here, you have a week to learn these, then you'll have a test." Sound familiar professor? Just kidding, but seriously Wanikani introduces you to vocabulary associated with the kanji you are you learning. It also provides context sentences so you can see exactly how the vocabulary word in its kanji form is being used.
Spaced Repetition is King
You will not advance to the next level until you GET it. Wanikani ensures that the users actually learn the kanji, vocabulary and radicals. Its level system is a huge motivation factor, you must reach the level of guru on 90% of the kanji that was introduced before advancing to the next level. Depending on how fast you are this can take anywhere between 7 and 100 days.

Modify The Way You Learn Kanji
There is a massive collection of plugins to help you modify your learning experience. So you won't be stuck with the same old wanikani layout and software 24/7. You can create your own learning environment and go at your own speed.
Stay Engaged With WaniKani's Online Community
There is also an active community forum for you to use while your reviews are on cooldown. You can basically go and talk to other members on the same journey as you are. It's a great way to stay focused and avoid distractions. It's also beneficial to see the different methods people are undertaking to study Japanese, prepare for exams and discuss in general just about anything.
---
Cons of Wanikani
Wanikani has a slow startup
It is slow in the beginning! If you happen to already know some basic kanji you are still going to have to go through the beginning levels to access the higher levels and more intermediate lessons. You cannot skip levels. If you fall behind on reviews…. you will drown. BUT! There is a vacation mode you can activate when you are not able to do any reviews. It will freeze your review lineup until you get back.
Radical Radicals, No Pun Intended
The radicals can be a bit strange at times. Depending on whether or not you have some experience of radicals already, making the switch to WaniKani's highly creative platform can be a challenge. Some of the radicals you will be introduced to will be extremely RADICAL if you catch my drift. I forgot a narwhal was an actual animal until Wanikani named an entire radical after it. Use your discretion here…
The Conclusion on WaniKani
Overall Wanikani is a highly affordable platform for Japanese learning for what its worth.  While its platform may be difficult to become adjusted to, that doesn't change the fact that the mnemonics approach works wonders. Its unique methodology is what attracts learners from various backgrounds; it certainly doesn't feel boring and its interface is bright, creative and mesmerizing.  It's like the crabgator has you in his hypnotic prowess, and you can't escape unless you finish all 60 of his trials and tribulations!
Did I mention that these 60 levels all together can be finished within a year if done at maximum speed? Did I also mention that WaniKani teaches you effectively just over 2400 kanji and 6000 vocabularies…that's kind of crazy when you compare this amount to Japanese grade school. WHAT ARE YOU WAITING FOR HAIL THE CRABGATOR!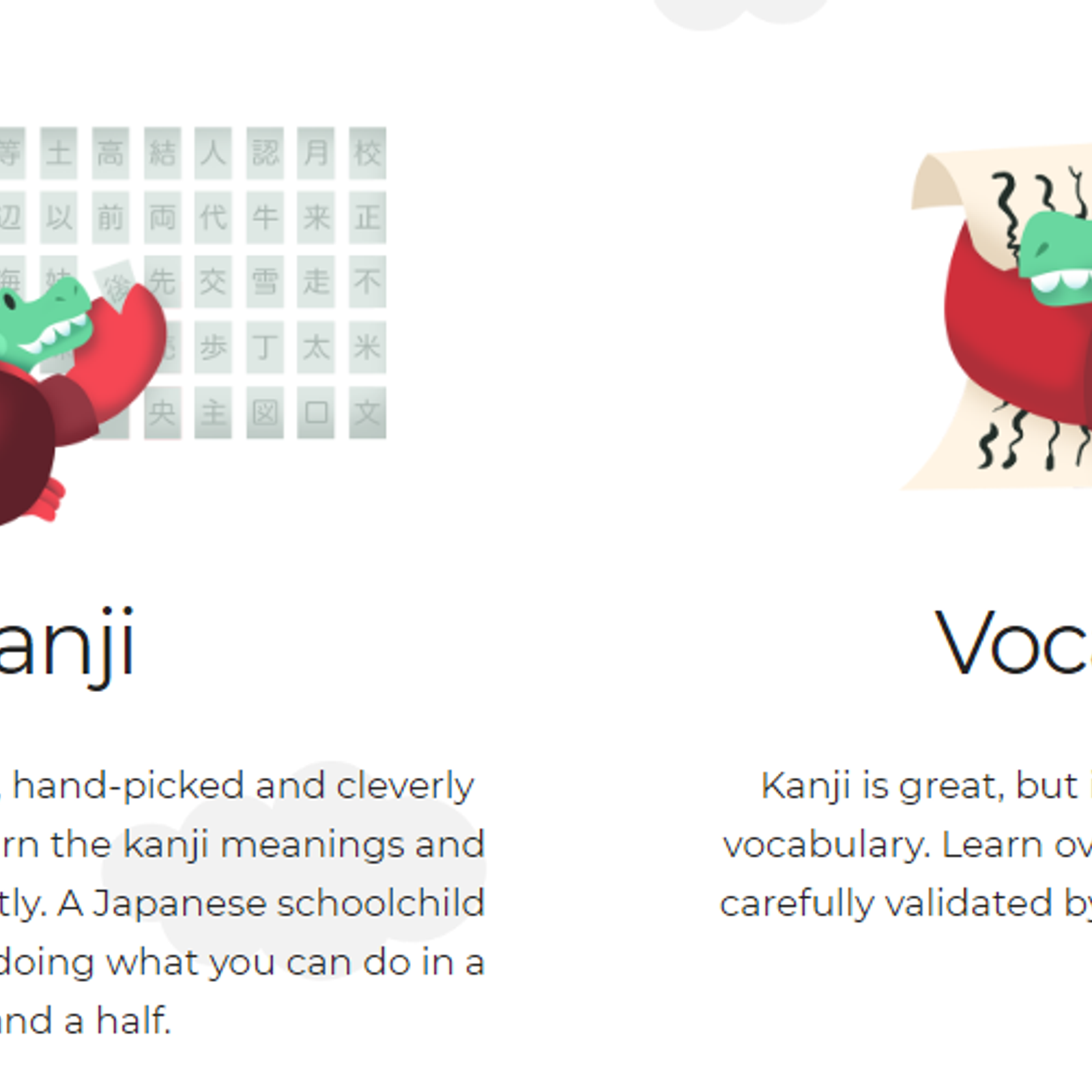 ---
https://www.tofugu.com/learn-japanese/
https://www.tofugu.com/japanese/japanese-learning-stack-koichi/